New hire training sets the tone for the rest of the employee's time with your firm. It's the first chance your company has to provide the correct training for your employees to ensure they are equipped with the knowledge, tools, and understanding of their roles necessary to do the job well.
It's also the time when the company and employee start to form a relationship, and first impressions can make a big difference in how the employee-business relationship unfolds.
Why the Onboarding Experience Matters
Training sets the right expectations for the employee so that by the end of the training, they know what to expect from the company and what is expected from them.
The onboarding experience needs to ensure employees know how to perform their jobs well. It also gives them an understanding of the company's mission, values, vision, and culture. Employees should understand their role in the company, where they fit in, and how their position and responsibilities relate to others.
Managing your own new hire training may not be something that you want to do in transportation logistics. You have many other business activities to focus on and may not want to divert some of your staff into training your new hires. Managing your new hire training through outsourcing can provide an effective training solution for your transportation, logistics, or supply chain company.
Why Outsource Your Supply Chain and Logistics Training?
Avoid Distractions: Lower the Burden on Management
Firstly, why should you consider outsourcing your training and development? For many businesses, a key reason is to avoid distractions. Training is important, but it's not one of your core business activities. By outsourcing your training, you can focus on what matters to the day-to-day running of your business without neglecting essential learning and development.
Onramp your New Employees Faster and Smarter
Your new employees will have a breadth of new skills to acquire before they are up and running at full speed. However, they do not need to know every skill before they can start contributing in meaningful ways. For example, teaching your freight brokers how to answer simple phone calls, locate specific loads, and log their notes are simple things you can have them begin executing while still learning more advanced skills related to relationship building, capacity strategy, etc.
Optimize Resources
Outsourcing your training also means partnering with a learning and development company with knowledge and experience. They can help you to develop a training program that includes all of the essentials but none of the unnecessary training. You get an outsider's perspective and can choose a provider with experience in supply chain logistics and transportation. Some providers can develop customized training programs and some providers can offer ready-to-go training modules designed specific to transportation & logistics. The latter provides all the benefits already discussed here and also serves to standardize training overall in our industry.
Save money
You can also save money by outsourcing your new hire training. Developing and delivering your own training could be a lot more expensive compared to using an established training provider. Especially when you consider the time and resources needed to plan, build out, and produce the training assets needed for quality training. When it comes to training, whether in house or outsourced, Metafora's POV is that quite frankly, you can't afford NOT to train your people. We see training as an investment with multiple returns.
Finding an Outsourced Training Provider
If you want to outsource your new hire training, you need to think about how to choose the right training provider. There are multiple things that you might look for in a provider, including finding a training provider that specializes in transportation, logistics, and supply chain. You may already be taking advantage of many of these learning resources popular in the transportation and logistics space.
A provider that understands your industry
Choosing a provider that understands your industry and how your business operates is one of the key things you should be doing. You also want a training provider that can customize their training content and practices to tailor their training to the needs of your business.
A style of training that meets your needs
Another thing to look for is the style of training provided. Your new hires won't benefit from too much classroom-style training. They need the opportunity to complete on-the-job training and apply what they learn in the classroom to what they're doing day-to-day.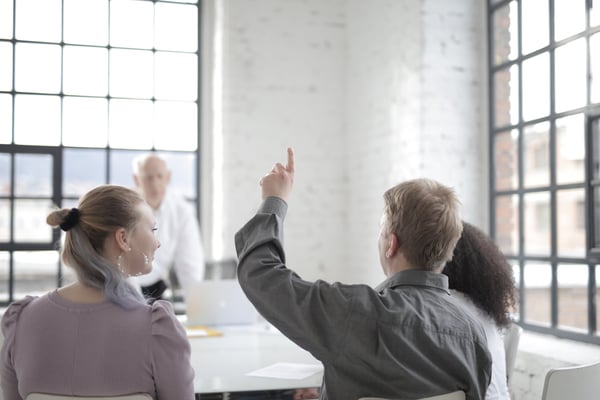 Types of Training to Give New Hires
There are different types of training you might look for when you want to find the right training provider.
Some of the types of training you might consider include:
Orientation to help familiarize new hires with the company

Providing an overview of the industry

Covering the basics of the job and their specific role

Learning in-person and on-the-job, virtually, or in a classroom

Group discussion

Simulations

Shadowing

Assessment and Review
You can discuss these different types of training with your provider and ensure there is a good balance. The mixture of these items will touch on all three major ways individuals learn- Auditory, Engagement, and Visually.
Creating Connection with Your Company
One thing that you might be concerned about when outsourcing your logistics training is creating a connection between the company and the employee.
If their training is being delivered by an outside provider, will new hires get a real sense of the company and its mission and values? That's a very real concern. The good news is that outsourcing your training can still allow you to onboard new hires effectively.
Look for a training provider that is knowledgeable about the logistics and supply chain sector, and also prioritizes getting to know your company's mission and values so they can be in alignment with your brand.
You can work closely with your chosen training provider to ensure they develop a new hire training program that works for you.
Training new hires properly is vital, but it doesn't have to be completed in-house. Outsourcing can help you to achieve your goals and allow your company to complete the onboarding process without sacrificing your time.
Get help with your new hire training
If you're interested in learning more about outsourcing your training provider, connect with us at Metafora today, and we'll answer any questions you might have.