Growing a successful trucking business isn't always easy. There's much more to it than simply transporting goods from A to B. In fact, some firms can provide clients with punctual, reliable and consistent services for many years and still never build the momentum they need to take their enterprise to the next level.
Fortunately, trucking business consultants can help. In this blog, we'll explore what they are and what actionable strategies they can deploy to improve your organization's effectiveness and market penetration.

What Are Trucking Business Consultants?
Trucking business consultants are professionals with decades of experience in the trucking industry. They intimately understand how to grow a logistics business from the ground up and contribute the knowledge and skills you need to scale profitably, all while meeting your brand goals and objectives. Fundamentally, they transform how your enterprise operates, helping you overcome pain points and move towards a brighter, more lucrative future.
How Do Trucking Business Consultants Help?
Trucking business consultants focus on assisting companies in areas where they are currently failing to make progress. For some, the issue is failure to grow, while for others it is a lack of technology or inability to retain talent.
Consultants begin by drilling down into the specific issues that your company faces before developing strategies designed to help you thrive in the future.


They Help You Grow
Even the best trucking companies can struggle to grow. Issues such as high capital requirements, lack of customers, and poor technology implementation are all significant headwinds.
Here is where trucking consultants can help. They work with you to find the underlying cause of your stagnation and then implement strategies to eliminate it. For instance, they can help you identify staffing solutions and resources or understand where your rivals are out-competing you. They can help you increase your operational capacity, upgrade your tech strategy, improve your company culture and so much more.


They Help You Hold On To Your Best Employees
Retaining talent is difficult in today's market. The "Great Resignation" and aging populations mean that there are fewer people taking trucking jobs than in the past.
To remedy this, trucking business consultants help you retain talent and find new workers when it comes to replacing them. They might also recommend better training and development, restructuring compensation, or revising job responsibilities.
They Improve Budgeting
Consultants also help firms avoid making unnecessary expenses. Many trucking companies feel like they are wasting money, cutting into their bottom line. Costs regularly exceed 97 percent of revenues, leaving just a 3 percent profit margin.
To prevent trucking firms from wasting money, business consultants perform assessment and benchmarking techniques. These involve understanding the current operational performance of the firm across various dimensions, identifying pain points, and developing recommendations for your business. Consultants may also suggest transforming your organization from the ground up to lower expenses. Lowering costs by just 3 percent can double profits in most firms!
They Resolve Process Issues
Operations are another area where consultants can help. Many trucking companies believe that their processes are a mess and want solutions that help them work more efficiently and consistently.
To this end, trucking business consultants can assist by:
Reducing reliance on physical paperwork and shifting administrative tools to the cloud

Assessing current business processes and making recommendations

Mapping out processes and searching for easily-corrected weaknesses in the flows

Improving processes so that they are more efficient, effective, and valuable to clients
They Improve Customer Relationships
Trucking firms rely on long-term client relationships. However, achieving them can be challenging.
Trucking business consultants can help quite a bit in this regard. They understand the processes that lead to high-quality relationships between carriers, intermediaries, drivers, shippers, and other critical stakeholders. Strategies they deploy include capacity assessments, account management, load planning, and competitor analysis.


They Provide Direction



Sometimes trucking companies simply don't know what they need to do next. They know they need to improve, but they can't see how.
Thanks to their experience, consultants can provide direction in this regard as well. They know what a healthy logistics firm looks like and can steer your trucking enterprise in a better direction. To do this, they might benchmark your current performance or compare your approach to your peers to see how you could improve.

They Improve Your Technology
Lastly, trucking business consultants provide tech inventory audits to improve your technology. They provide roadmaps that show you the best path to state-of-the-art implementation, delivering greater competitive advantage.

Conclusion
In summary, trucking business consultants are experienced industry professionals who can show you how to improve your logistics firm! They provide critical insights and hands-on assistance to make you more competitive.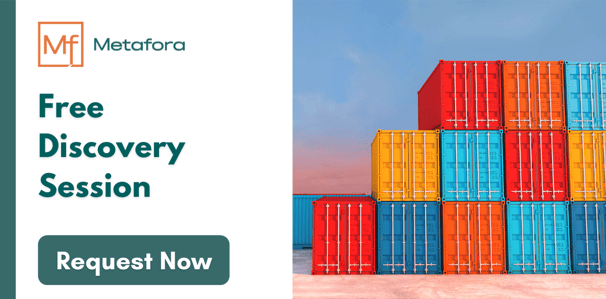 - - - - - - -
Metafora
Metafora, previously "CarrierDirect", is the leading consulting & software development firm for transportation, logistics, and supply chain businesses.
We help supply chains, transportation, and logistics companies overcome obstacles toward progress and growth so that we can contribute to a more efficient world together.
For transportation providers, shippers, and logistics software vendors who are ready to go the extra mile toward growth and profit, Metafora serves as an extension of your team to push your business to places it's always wanted to go.
We are not in the business of delivering things, we're in the business of delivering your company to the next level, fast.
From building through growth plateaus to expanding modal offerings, compensation restructures, training, and sales strategy, we advise on the elements of business most vital to your success. Let's see how far your business can go.
What we offer:
Evaluation & implementation of logistics technology platforms

Guidance on the decision to buy or build



Buying? We help with the selection, implementation, training, and adoption of your new investment.

Building? We custom-develop solutions just for the logistics and supply chain industry.



Smarter, more reliable integrations

Technology guidance to ensure you stay competitive in today's rapidly changing environment

And so much more!