Stifel, a diversified global wealth management and investment banking company, recently held a private company forum in Bluffton, South Carolina. Transportation and Logistics (T&L) companies were a predominant part of the attendance, in addition to private equity (PE)/Investment Banking firms. As you can probably guess, a huge topic at this forum was M&A.
At this event, our CEO, Peter Rentschler and our VP of Corporate Development & Strategy, JT Engstrom had the opportunity to sit down with Evan Mcabee, Director at Stifel Investment Banking, to discuss technology-focused trends and lessons learned within the Transportation and Logistics industry. In case you missed it, or just want a refresher, we're sharing some of the key takeaways now.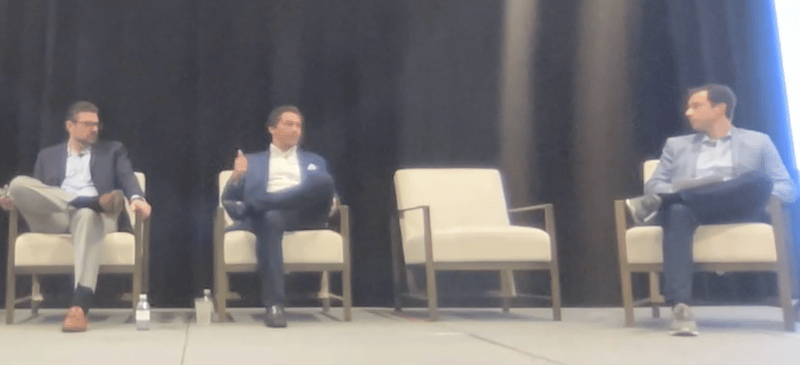 After working with a plethora of clients to solve a variety of issues over the past two years, Metafora is confident in saying that the pandemic has exposed major flaws in T&L businesses. We're seeing material shifts in the way technology is used and how it drives both customer and vendor expectations.
With this, there are numerous trends and lessons that we encourage T&L companies to understand and act on, including:
Venture Tech Enabling Down Market Businesses
Continued levels of elevated Venture investing in freight technology is resulting in the building of tech that enables SMB to compete with bigger players. This works in parallel with the fact that customer and vendor expectations have never been higher.
Not all Tech is Value-Add
Given the growth of readily available technology modules, it is critical, now more than ever, to focus on building technology that differentiates you and buying what you can as an accelerator. Tech that enables new services lines (ex. SMB Managed Transportation) can drive incredible value.
Implementation is Just as Important as the Build
Many companies focus on building incredible technology. Great! However, many of those same companies do not spend the time and energy needed for quality adoption of that tech. When widening their tech stack or capabilities, businesses need to consider and plan for transition activities, training/on-going training, and maintenance.
Get Smart on Data, Really
Everyone is talking about AI/ML (artificial intelligence/machine learning), without having a proper data management strategy in place. It is important to understand that building AI trained on bad data is worse than having the whole process be manual. We repeat: AI trained on bad data is worse than having the whole process be manual.

In our industry's current state, we are seeing more interactions between middle market and value add players in T&L and PE and investment banking. Many of these PE firms and investment banking companies have T&L focused internal groups. Our market is hot. Investors have taken note and are taking action.
Now, we're here to say: unfortunately technology within the transportation and logistics sector can have major gaps, which materially affects enterprise value (EV). This brings us to…
3 Hard Truths You Need to Accept When it Comes to Assessing Transportation & Logistics Technology in the M&A Lifecycle
As proof, we are also sharing examples we've seen after performing dozens of IT Diligence and Tech Strategy projects related to M&A over the past 24 months.
Custom Tech Cannot Always Scale with Business Plans


Example: A 3PL with a TL focus pitched an LTL expansion as a core part of their growth strategy. Upon completion of an analysis of their proprietary TMS, we concluded that there was a need for major re-architecting due to the data models utilized at core load execution.

Not all Tech is Built the Same


Example: A tech-enabled 3PL developed proprietary technology empowering a unique agent model. We were hired to perform diligence. Upon Architecture Review, we discovered that the platform was built in Haskell, an incredibly isolated and rare codebase. Amongst other issues, we advised that a re-platform may be required due to a lack of Haskell developers within the industry.

Evaluating the IT Team is an Important Part of Diligence


Example: Custom technology can be a major driver of EV and that the supporting team plays a large part in that. With one client, we came to the conclusion that their system in question was poorly documented. After digging in further, we found that only the co-founder/CTO had a material understanding of how the tech worked. Understanding that he might check out post transaction, it is critical to ensure that your custom tech can live on vibrantly no matter the people circumstance.
The Metafora team is positioned within the transportation & logistics industry to guide businesses throughout various stages of the M&A lifecycle: Defining an M&A Strategy, Building a Target Pipeline, Conducting Due Diligence, Transactional Support, and Executing Integration Activities. Using 2021 as a launchpad, Metafora is dedicated to serving, growing, and disrupting the transportation and logistics space into 2022 and beyond.
Learn more about our newly announced M&A Service Offerings here.
Or reach out to request a free discovery session with us here.