What a great time at #TIA2023CON! Impressive speakers, insightful panels, a vibrant exhibit hall, and fantastic networking. In this blog, we will recap some of the key takeaways and highlights from the conference, and explore the insights and perspectives shared by the industry leaders who spoke at the event.
Panel Recap: Investing Through A Recession - How To Navigate Turbulent Freight Markets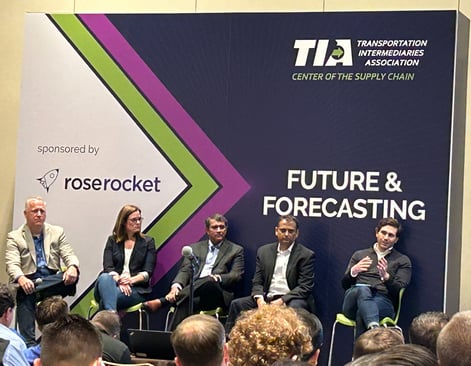 Moderator: Peter Rentschler, CEO, Metafora
Panelists:
Matt Parry, Senior Vice President, Werner Logistics

Trish Skoglund, Corporate Director of Mergers and Acquisitions, Crowley Logistics

Ashesh Pansuria, VP, Tenney Group

Nikhil Sathe, Managing Director, Logisyn Advisors, Inc.
This panel dove into the M&A conversation that is still thriving despite the current market conditions. It has radically shifted from a seller's market to a buyer's market. We're seeing a slow down on acquisitions by PE firms. Strategic buyers however are not necessarily slowing down.
Strategic buyers bring different value than a PE firm. Strategic buyers have a roadmap and a strategy. They are not just looking for a deal. They are looking for something that will complement and help scale their business. If you are acquired by a strategic buyer, you then get the benefits of a bigger team behind you.
If you are working to build your business for an exit, there are three things you should be focusing on:
Your tech




You don't want antiquated tech or a messy tech stack to end up being a deal breaker. Having modern tech will make transitions or integrations smoother in the event of a merger or acquisition. It is worth noting that if you are a tech company hoping to be purchased, larger companies, like Werner, that are already heavily investing in tech may be less likely to buy a company specifically for their tech.

Your customer footprint




A sticky customer base is very important. Also pay attention to your customer concentration. It needs to be diverse. You don't want one customer representing 40% of your business. If that is the case, you look more like an enterprise account than a freight brokerage to a potential buyer.

Your people




Your talent is incredibly important to a potential buyer. A buyer will want to see people in your business that they can see actively contributing to scaling a business and taking it to the next level.
Optimism in a Downturn
Skoglund talked about the silver lining of a downturn. She pointed out that downturns are beneficial for companies because it's an opportunity for conversation. This is when, more than ever, companies need to take time to ask what people need. This applies to their customers, their employees, and themselves. A downturn is a time to listen more, and people tend to be paying better attention than in an upturn.
When it comes to cutting costs, Skoglund also advised to not cost cut the bubble. Yes you have to be nimble, but people often turn to the largest areas to cut but that might not be the right choice.
Rentschler chimed in with a recommendation for an intentional 3-tier planning process: Make time to map out a Plan A, B and C. Having these plans in place, tailored to multiple scenarios for your business, allows you to avoid scrambling and having to make emotional decisions if that time comes.
How Well are You Running Your Business?
Pansuria shared a key indicator of how well you are running your business. He explained, "If you can walk away from your business for a few days, and you come back and your business is running just as well, if not better than when you left… That's where you want your business."
Rentschler agreed and added, "If that's not the case, you're not a business owner, you just have a really stressful job."
Panel Recap: What to do When the Market Turns

Moderator: Ryan Schreiber, Chief Growth Officer, Metafora
Panelists:
Jason Roberts Senior Vice President of Enterprise Operations, MODE Global

Rush Feldhacker, VP of Development at Neon Logistics
In this panel we discussed the volatility of the logistics industry. Businesses need to adapt quickly to changing market conditions. Here are some key takeaways:
Don't just focus on revenue. When the market slows down, many companies make the mistake of solely focusing on revenue. However, it's essential to invest in capabilities that are lacking and build a better foundation.

Engage both the carrier and the customer. Intermediaries in the logistics industry have two sides to their business - the carrier and the customer. To succeed, they must engage both sides and provide value beyond just service and low rates.

Be proactive. Many businesses have a reactive mindset, but some use a slow market to invest in capabilities that are lacking and build a better foundation. Keep in mind that many of your competitors are also cutting costs, so this is an opportunity to pull ahead.

Focus on strategic planning. Retro on the last up-cycle and charter the values you are going to stick to regardless of market cycle. It is a mistake to ever think that your tech investment is "done" and business will be good. Move away from vanity metrics and identify areas of P&L that are broken.

Invest in technology. In addition to TMS, businesses should focus on tools that help them with data, understand their cost to serve, and identify areas of improvement.

Hire the right people. Culture fit is essential when hiring, and businesses should look for people who align with their values.
Glass Chatter VIP Networking Event
The Glass Chatter VIP Networking Event, hosted by Metafora and Lean Solutions Group, exceeded expectations! Special thanks to all our sponsors: Sync Logistics Training, TextLocate and Bridgepoint for making this event memorable.
Glass Chatter was a quality time for:
Great food & drinks, better chatter

Intimate setting to catch up with new and existing contacts

Sharing thoughts on the conference

Discussing challenges around growth in the current market

Ask questions about all things freight tech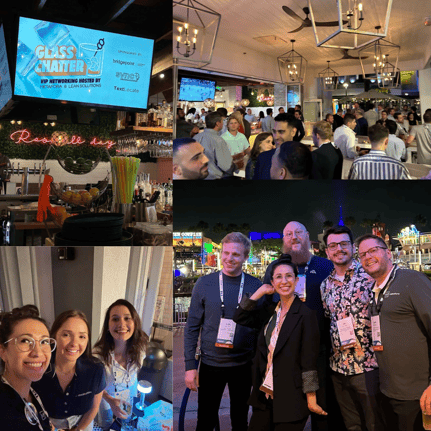 The Freight Tech Convo Continues Strong at TIACON
It's fascinating and inspiring to see how the freight tech conversation has evolved in our industry. While TMS is still incredibly important in the freight tech convo, we are excited to hear so much more convo about finding and building tech to help our people, make better use of data, better understand cost-to-serve, and making sure tech is an integrated part of a company's overarching business strategy. Key freight tech takeaways:
Technology is rapidly evolving in the logistics industry.

Investing in technology during a downturn can position businesses for growth when the market rebounds.

Technology is a must-have, not a nice-to-have, in today's logistics industry to meet customer and employee expectations.

Investing in training is crucial to maximize the benefits of technology.

The goal of investing in technology is to improve efficiency and ultimately improve the bottom line. You're not getting value from the tech. You're getting the value from the efficiency that the tech brings.

Freight tech is a complex and rapidly growing world. More and more people are admitting that it can be overwhelming and are open to looking for trusted experts to help them navigate the freight tech options. If you're looking to select, implement, or build technology for your 3PL, there are unbiased experts who are passionate about helping businesses like yours with these goals. (Like Metafora for example!)
Final Thoughts
There continues to be an increased amount of tools and technology entering the space with focus on solving a specific problem as opposed to trying to do too much through multiple services.

People are hesitant to make big changes that require material investment until the market starts to turn back around.

People are optimistic that the market will get better toward the end of the year and are hopeful they can make it through these tough market conditions.

Larger players are interested in cost-to-serve and identifying ways to get more efficient through automation or creative staffing solutions such as near-shoring.

Software selection is a hot topic with questions being asked from freight brokerages of all sizes, specifically regarding TMS. The mindset is still that the right TMS will solve the brokerages problems. We know TMS is important, but it needs to one part of your bigger tech strategy.

Hear what our Metafora Attendees have to Say
"The market slowdown has cooled the 'buy tech without thinking' harmful trend and helped companies take an intentional look at what software they need and how it will impact their business." - Ryan Schreiber, CGO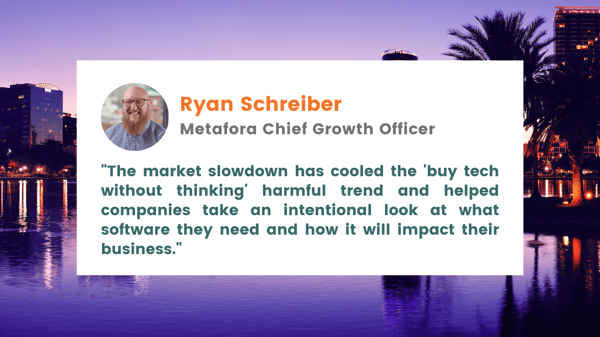 "At Metafora, we pride ourselves in keeping a pulse on the 3PL industry. TIA is a great part of our ability to do this. It's a valuable experience catching up with everyone here. I love hearing about the new tech coming out, the goals of growing brokerages, and right now, seeing the optimism in the market despite the current conditions. I was especially pleased to have so many people have questions for us about how to optimize in these times, how to maintain focus on a long-term tech strategy, and how to develop software that will differentiate them in our rapidly evolving market. " - Peter Rentschler, CEO
"For me, this year's TIACON was all about immersing myself in the 3PL world. While I've been in business consulting for 12 years, I'm fairly new to the transportation and logistics space. It's a fascinating world and I'm thrilled to see all the opportunities out there for businesses here to optimize and grow. I'm passionate about problem solving, and in chatting with so many freight brokerage leaders, I can see so many challenges that I can't wait to tackle." Alex Philo, VP Consulting
"The Glass Chatter VIP Event was a great setting to catch up with new and existing contacts to discuss thoughts on the conference, challenges around growth in the current market, what is the right tech to explore/ implement and broader business strategy." - Adam Perlmutter, Director of Industry Consulting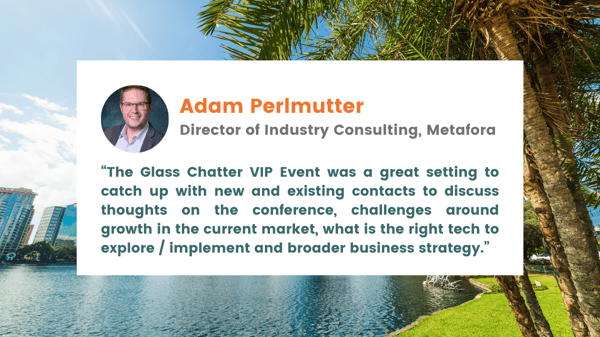 "I found it interesting to chat with so many people who admitted that they weren't making the most of their APIs. While I'm not glad that that is the case, I am glad that people are taking the first step by realizing the miss and are ready to make improvements. We understand the complexity that comes with so many integration opportunities, and that's why we created Socket. My goal at TIA this year was to learn about broker's current state of integrations and explain to them how Socket can help." Joe Laskey, Sr. Product Manager
"While meeting people at TIA, I was eager to learn what their goals were for the week. I was thrilled to discover that many people were looking for new software, plenty were also just trying to learn how to optimize and scale their brokerage, and of course, just about everyone was working to make connections in the industry." Teresa Ronquillo, Director of Marketing
All in all, the 2023 TIA Capital Ideas Conference was a fantastic event and we are honored to have been a part of it. We're already looking forward to TIACON 2024 in Phoenix, AZ!
---
Weren't at TIA Capital Ideas Conference, but still want to connect?
We'd love to chat!
Set up time with one of our experts by clicking on the image below: