Chicago, IL - Jan 9 – Metafora, the leading consulting & software development firm for transportation, logistics, and supply chain businesses, has successfully completed a System and Organization Controls (SOC) 2 Type II audit, performed by Sensiba San Filippo, LLP (SSF).
Developed by the American Institute of Certified Public Accountants (AICPA), the SOC 2 information security standard is an audit report on the examination of controls relevant to the trust services criteria categories covering security, availability, processing integrity, confidentiality and privacy. A SOC 2 Type II report describes a service organization's systems and whether the design of specified controls meets the relevant trust services categories, and assesses the effectiveness of those controls over a specified period of time. Metafora's SOC 2 Type II report did not have any noted exceptions and therefore was issued with a "clean" audit opinion from SSF.
Kevin Jenkins, Director of Technology at Metafora explains, "Metafora chose to pursue a SOC 2 Type II report as it's the most comprehensive - it not only independently verifies that we have the design of the controls in place, but also that they're operating effectively over a period of time. We want to give our clients the highest level of assurance possible when it comes to information security."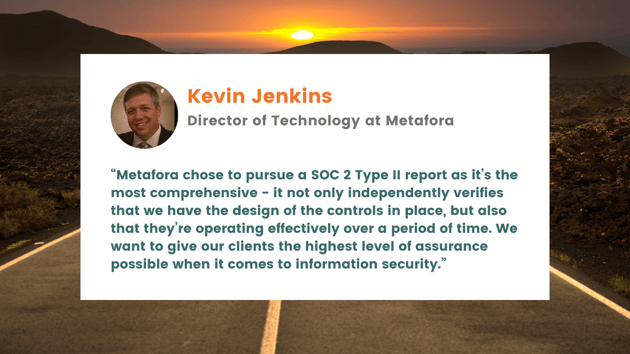 Steven Godfrey, Chief Delivery Officer at Metafora, adds, "As we begin to launch products, it is imperative that we are able to show our customers that we have the appropriate security controls in place to safeguard their data and information. We believe that SOC 2 compliance is the industry standard in this regard."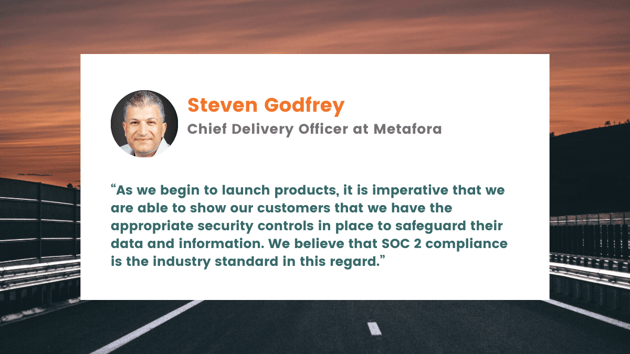 SOC 2 reports provide assurance over internal controls related to data security and privacy. Companies use SOC 2 reports to prove to internal and external stakeholders that they are securing data according to best practices. SOC 2 compliance is a requirement when considering a SaaS provider for security-conscious businesses.
About Metafora
Metafora is a business consulting and software development firm that exclusively serves the transportation, logistics, and supply chain space. Metafora partners with carriers, shippers, and freight tech vendors to help them optimize their business and develop tech strategy to fuel their growth.
Read this press release on PR Newswire here.