Season 2, Episode 6: Increasing Productivity with Nearshoring and Great Company Culture: An Interview with Roberto Icaza
In this episode one of our hosts, Robert Bain, chats with a special guest… Roberto Icaza, Co-Founder, President and COO of Rapido Solutions Group. They discussed the successes and milestones that Rapido has achieved, as well as the benefits of adding near shore solutions to your business, such as having native Spanish speakers assisting with cross-border service offerings.
Listen now:
Roberto's Background:
He grew up in the United States (Michigan), but has a lot of influence from Latin American culture (parents from Nicaragua).

He always wanted to do something in the intersection of Latin America and the US and take advantage of his Spanish.
The Beginning of Rapido Solution's Group:
They started in Guadalajara, Mexico in 2019 working as a solution finder

They began building high performing logistics teams

They grew by understanding the market and networking
Successes & Milestones the business has achieved:
Rapido Solutions Group has excelled at finding quality talent and retaining them! They are proud of their ability to build good and lasting relationships between employees.
"If we treat our employees with respect, and give them a culture that they have never seen... we can create an empowering environment for employees..."- Roberto Icaza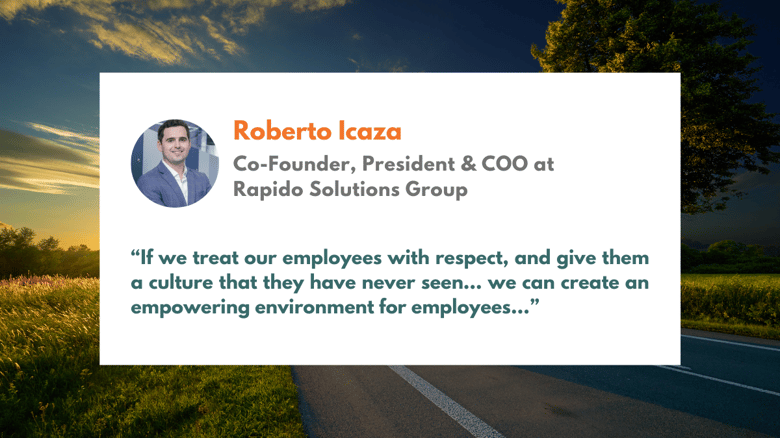 As Roberto Icaza mentioned, Mexico can offer a lot to US logistics companies not just in proximity, cultural affinities and great talent, but also, as logistics companies work to add a cross-border "mode" into their service offerings, they can leverage Rapido to help. Implementing a cross border offering has long been a challenge for US logistics companies due to the complex process, multiple parties involved, and language needs.
"We want to help US companies to reimagine the way they think about scaling and growing their business. If you can get really hungry, motivated and engaged people in a good work culture that's a win-win for everyone"- Roberto Icaza


What should those looking at options to expand carrier sales look for in a nearshore partner?
Having processes and training is necessary

Center of excellence model: having managers and subject matter experts.

Ability to develop relationships with carriers
The Importance of Culture:
Rapido's vision is to radically change the Latin American work culture and help their customers achieve sustainable growth. They believe that "people first" approach is very important to the productivity and success they are seeing.
Rapido's culture:
They make sure their employees feel that they have a voice, that they are heard, that they're getting paid fairly, and they have great benefits.

Activities such as focus groups, Rapido health benefits (nutrition, psychiatry, mental health, etc) and many other things so that employees are in a comfortable workplace environment and they can have tools to also grow both professionally and personally.
"Our culture is our DNA... Metafora's mission is to make each of you the best version of you that you could be." - Robert Bain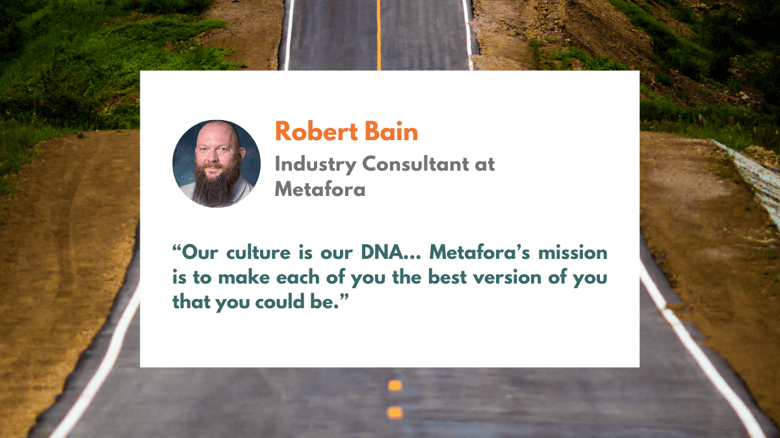 Rapido's Future
Hyper growth! Continuing to partner with great companies in the US and find ways to help provide solutions that they haven't seen before.

Big Focus: Infrastructure! Making sure they have the office space, the equipment and everything people need to set up for success in a hybrid model, in the office or even remotely.
Learn more about Rapido Solutions Group at https://rapidosolutionsgroup.com/
Roberto Icaza can be found on Linkedin here or can be reached by email at roberto.icaza@rapidosolutionsgroup.com.
Learn more about Metafora+, Metafora's partnership program here.
Interested in chatting with a SME from Metafora? Request a free discovery call here!
---
Subscribe and listen on the following podcast services: