Employee Spotlight on: Metafora Customer Service!
Our customer service team is STELLAR, and the numbers are here to prove it. Check out this awesome infographic highlighting how we're doing on some KPIs.
Shout out to: Joe Laskey, César Daniel Correa Chitiva, Joel K. Bennett, Alex Williams, Louis Stevens, Lindsey Chafin, Pawel Wencel.
Our customer service team is kind, committed, and dedicated to our customer's success. We are better because of them. Cheers to the team!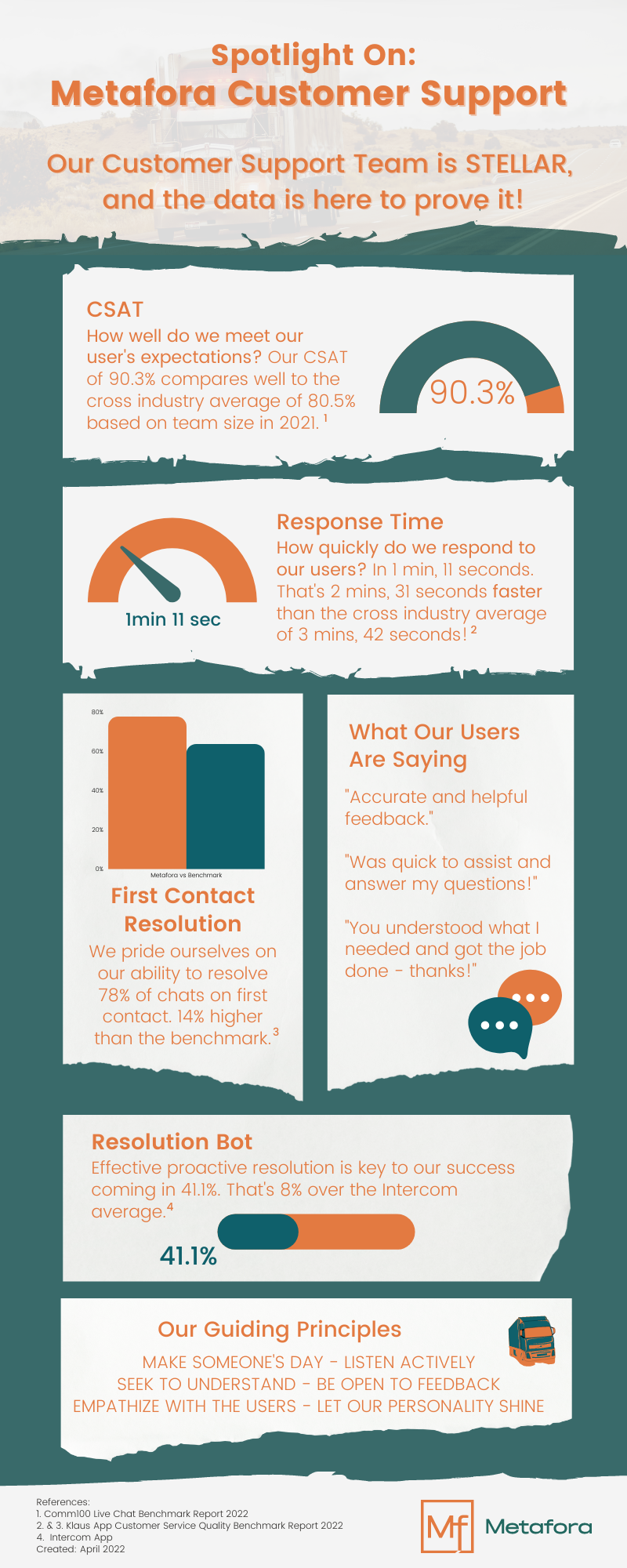 CSAT
How well do we meet our user's expectations?
Our CSAT of 90.3% compares well to the cross industry average of 80.5% based on team size in 2021.
Response Time
How quickly do we respond to our users?
In 1 min, 11 seconds. That's 2 mins, 31 seconds faster than the cross industry average of 3 mins, 42 seconds!
First Contact Resolution
We pride ourselves on our ability to resolve 78% of chats on first contact. 14% higher than the benchmark.
What are users are saying:
"Accurate and helpful feedback."
"Was quick to assist and answer my questions!"
"You understood what I needed and got the job done - thanks!"
Resolution Bot
Effective proactive resolution is key to our success coming in 41.1%. That's 8% over the Intercom average.
Our Guiding Principles
MAKE SOMEONE'S DAY

LISTEN ACTIVELY

SEEK TO UNDERSTAND

BE OPEN TO FEEDBACK

EMPATHIZE WITH THE USERS

LET OUR PERSONALITY SHINE
References:
1. Comm100 Live Chat Benchmark Report 2022
2. & 3. Klaus App Customer Service Quality Benchmark Report 2022
4. Intercom App
Created: April 2022