The Future of Freight Festival, or F3, brought together industry leaders to discuss the key factors impacting freight markets and the latest trends pushing our industry forward. It took place in Chattanooga on November 1-3, 2022. The event included a forward-thinking freight conference with rapid-fire demos, interactive sponsor kiosks, thought-provoking speakers, and a festival that included exclusive VIP experiences, entertainment and music!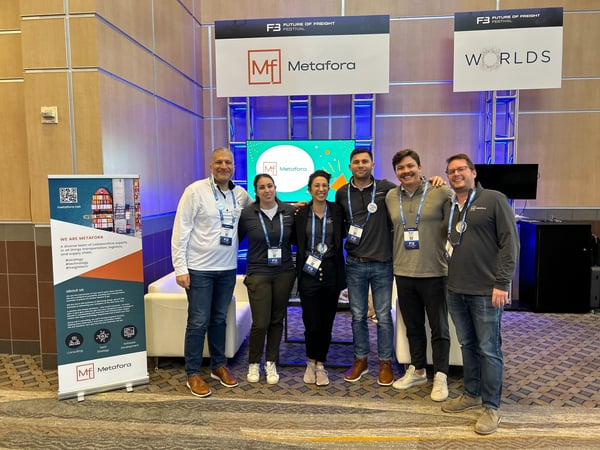 Metafora had a number of representatives at the conference, and they noticed a few key themes bubbling up throughout the whole week.
3 Notable Themes We Observed at F3
Tech strategy and TMS/tech selection are still extremely important across the board.
We agree… to a degree. Tech strategy is crucial. Your technology strategy affects all aspects of your business operating model: people, process, organization, and culture. Having a solid strategy in place makes your tech selection process smoother and subsequently also aids in the implementation and adoption to follow.
As for TMS selection specifically, we urge clients to remember that switching to a new TMS may seem like a quick-win, but we are here to help you assess if that's really what you need. This goes for any shiny new tech. Some feedback we heard from other attendees was along the lines of, "With all the new tech players, it is, at times, difficult to determine what is a viable option and what is a waste of time."
As Peter Rentschler explained in this FreightWaves article, one of our industry's greatest challenges is where and how to invest in technology. Peter goes on to recommend:
"Start with a tech assessment. Don't be afraid to bring in outside help. Part of why many companies have failed with tech in the past is because of internal bias. An unbiased third party can come in and ask the right questions, which are often the tough questions."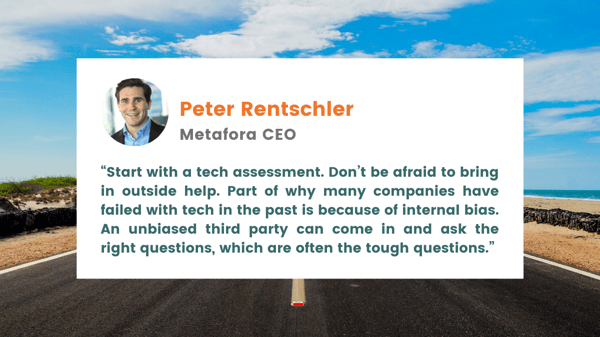 Capacity management tools are starting to become table stakes in the industry.
After a strong, profitable last 24+ months, companies are hyper-focused on cost and are looking at ways to get more efficient and competitive below the line. Capacity management tools serve to drive down the cost to source matches. They also help with efficiency and simplify what can otherwise be a tedious process. Some of the capacity management tools that were present at F3 were Parade.ai and FreightFriend.


New FreightTech companies are popping up and making noise FAST.
As was evident with the FreightTech 25 list welcoming 12 new companies to the list, new FreightTech is doing what it came here to do: innovate and disrupt. It is no secret that legacy tech is a growth blocker in transportation and logistics. New FreightTech solutions are jumping in to directly address that problem, and we're here for it! We agree that modernizing your tech stack is critical in today's fast-paced market.
So what are we most excited about coming out of F3?
Steven Godfrey, Metafora's Chief Delivery Officer comments, "We're excited to see where things head next year. Given the political and economic climate here and globally, there are a lot of questions on what next year will look like. In times like this, it's important to focus on automating routine tasks and processes, looking at where tech can improve your operations, and looking at where you can drive increased value in the business through investments."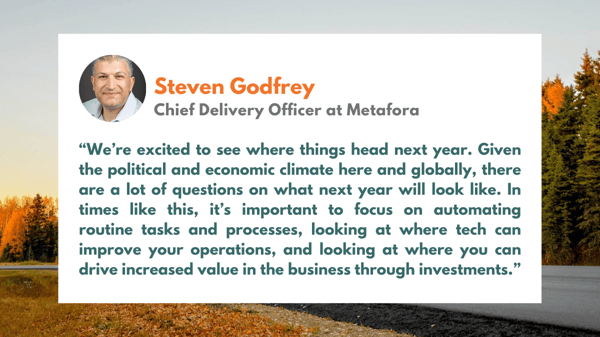 Yes, Metafora can help with these things, but more importantly, all this will put you in a stronger position when it comes to competitiveness and being ready for the next economic cycle.
Rush Feldhacker, Metafora Industry Consultant adds, "Companies are recognizing that they need to be more efficient. They are also starting to see all of the new tech in the space, including some developed by their competitors, and are recognizing the need for tech strategy earlier in their maturation cycle. I'm excited to see so many leaders understanding this and making a plan to act with this knowledge."-Rush Feldhacker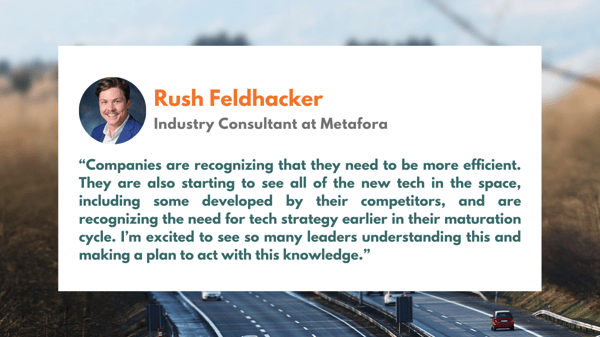 All in all, FreightWaves Future of Freight Festival was a fantastic event and we are honored to have been a part of it.
Oh wait… Ryan didn't want to miss the team photo! He just went for a coffee but he's back now... *thanks photoshop*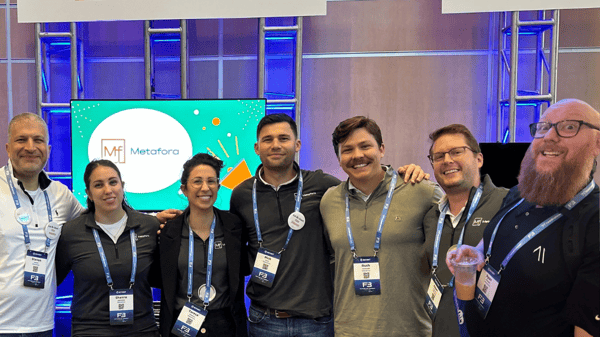 Were you not at FreightWaves F3? Or didn't get enough time to chat with us while there? Have no fear, we'd still love to connect. Contact us here or schedule a free discovery call with us here.