Season 3, Episode 3: Freight Tech Conversation with Sean Santiago
In this episode, hosts Adam Perlmutter and Teresa Ronquillo chat with a very special guest, Sean Santiago, SVP of Technology Platforms at TI/NTG. Sean shares about his journey to freight tech, the highlights and challenges along the way, and the exciting advancements he's seeing in the space.
Listen now:
Background
Sean brings nearly 20 years of experience in the industry, with a diverse background encompassing various roles and responsibilities, primarily in the 3PL space. He began his career at a small mom and pop 3PL in Florida, specializing in refrigerated freight and backhaul optimization, which provided him with invaluable niche market experience. From there, he transitioned to a larger brokerage where he spent 11 years in a variety of positions from carrier sales to operations. It was during this time that Sean's career took a techie turn, as he became more involved in automation and discovering ways to enhance productivity without increasing workload.
As Sean's interest in technology continued to grow, he gradually shifted towards the IT side of the industry, ultimately landing a role with UPS Freight's LTL department. There, he worked on developing a digital supply chain before joining TI/NTG in 2020, where he currently works.
What First Interested Sean about the Tech Side of T&L
When asked about what sparked his interest in the tech side of the industry, Sean shared that for years, colleagues had been suggesting he explore the field. Despite his lack of technical background and training, he was often the person who caught mistakes before a release went to production. Eventually, he took the advice of others and decided to try his hand at tech. It turned out to be the best career decision he ever made.
How Sean has Seen the Freight Tech Convo Evolve
"The big evolution to me is that there used to be an IT department in the business where now I feel like that's a lot more interconnected," says Sean, reflecting on the changes in the conversation around freight tech. While TMS is definitely still part of the conversation, it's more focused on cloud-based solutions and modern architectures like microservices. Business and tech have to be on the same page, and leaders are starting to realize that tech has to be part of the strategy. With the availability of tech to smaller brokerages, the playing field is leveling out, enabling them to compete with larger players in terms of pricing and capabilities.
How Sean Stays Connected to the Needs of the Business
Sean's background in product management has been valuable in staying connected with the needs of the business. As his career has evolved, he has taken on more responsibility in overseeing software delivery for brokers and other business units.
Sean's Comments on Notable Advancements in Freight Tech
Digital tracking: first we were pinging cell phones and then the ELD mandate, and now you're looking at temp monitoring, exception handling, etc.

We're trying to get away from EDI and get into an API environment. The architecture of not working with these big on-prem TMS's is making things more flexible in our industry now.

Chat GPT is probably one of the coolest things to come out and will be one of the most revolutionary things, not only within our industry, but just to people's day to day work moving forward. There is still a lot of progress to make with AI (things like Chat GPT), but it is extremely helpful in certain aspects in its current state.
When asked about some of the most notable advancements Sean has seen in freight tech over the course of his career, Sean commented,
"I think some of the biggest advancements of the last couple of years have been advanced analytics, the ability for NLP, which is natural language processing, machine learning, and artificial intelligence. All that has brought pricing, route optimization, and freight matching to a completely new level. That is really, really exciting and I think it still has a ton of improvement to go."- Sean Santiago, SVP of Technology Platforms at TI/NTG.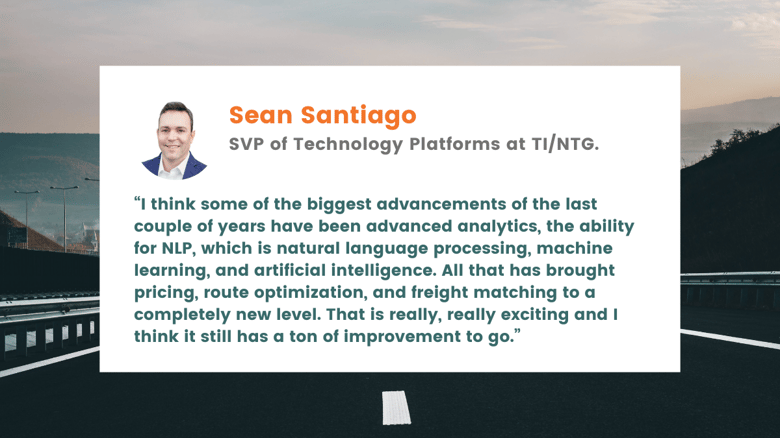 Sean Notes Three Things He is Bullish About for 2023
NLP Programs

Sustainability

Change Management
Sean Comments on TI/NTGs Biggest Accomplishments Since 2020
Digital transformation: TI/NTG started a digital transformation in 2020 and they're wrapping the initial part of that program up this year.

Beon Shipper Platform: This is focused on small to medium size shippers. It can handle everything from spot quoting and shipment generation and tendering loads, not only to NTG but other carriers or providers.

Beon Carrier platform: This application is geared toward dispatchers and managing their interactions with the brokerage.
When asked what it has been like teaming up with Transportation Insight, Sean explained,
"TI and NTG were affiliated through a holding company that we're under… the idea was always, how can we take this managed transportation and consulting business that does parcel and does LTL and does full truckload and these other things, and really be able to upsell that brokerage offering into more consultative managed transportation offerings. And so, as we started to bring the companies together, we started bringing the tech platforms together, and it's really been an incredible journey…"- Sean Santiago, SVP of Technology Platforms at TI/NTG.

Build vs Buy: It's The Hybrid Approach for TI/NTG
At TI/NTG, they have a strong belief in the proprietary approach, which involves acquiring or building unique solutions that set the company apart from its competitors. For industry standards or other basic requirements that do not provide significant differentiation, the company follows a "buy" approach to accelerate the process. Integrating purchased solutions is often simpler and quicker than creating something from scratch. By adopting this hybrid strategy, TI/NTG can focus on creating truly innovative solutions that drive their business forward.
TLDR: Buy what you can. Build what will differentiate you.
The Crystal Ball Prediction For Freight Tech 2023
Route optimization, definitely anything that has to do with advanced analytics.

Pricing technology or pricing algorithms and the ability to buy at the right rates with the most updated data, whoever does that the best is gonna be the one who we see gain the most market share in this particular market.
Learn more about TI/NTG at https://tiholdco.com/ and https://ntgfreight.com/
Sean Santiago can be found on LinkedIn here.
Interested in chatting with a SME from Metafora? Request a free discovery call here!
---
Subscribe and listen on the following podcast services: