If your third-party logistics (3PL) business is like most, you grew revenues and profits over the course of 2020 and 2021. Demand for capacity was high and the market was completely in your favor. Now, as the market slows, analysts are debating whether this is a temporary lull or if a freight recession is on its way.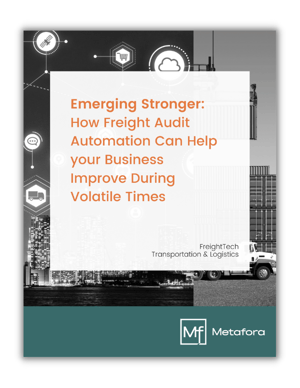 Inflation is escalating, spot rates are on the decline, fuel prices are soaring, and capacity is loosening. During times like these, it's important to be continuously assessing your business and what you need to do to stay competitive.
When freight markets are volatile, there are several things 3PL businesses can do to minimize impact and emerge stronger. One critical way 3PLs can do this is to renew your commitment to your go-to-market strategy with your shippers and your transportation partners. Which, quite frankly, you should be doing on a regular and intentional basis no matter what is happening with rates and the market. Businesses that quickly adapt to softening markets and optimize their business emerge even stronger as markets recover.
At Metafora, our mantra for this is: Do the right thing, no matter the market. What does that mean? Be a continuously improving business. Treat your employees well. Build meaningful relationships with your customers. Treat your carriers as customers. Implement an intentional tech strategy. Find areas of opportunity to automate.
As part of our recently announced partnership with Navix, we want to take this opportunity to zoom in on a particular area of automation that we see as uniquely lucrative to focus on during a potential market downturn. This area is your payment audit cycle.
Spoiler Alert
Your invoice audit and payment cycle has ties to your larger business goals in many ways. It impacts your customer satisfaction rates, your team's workload, your cost to serve, and, of course, your bottom line. Automating your freight audit process helps with:
Hiring & retention

Finding margin opportunities

Speed to payment
Download The White Paper, now by submitting the form below: