Season 2, Episode 7: Driving a Meaningful Company Culture with Randy Perkins from ITS
In this episode our hosts, Robert Bain and Adam Perlmutter chat with a special guest… Randy Perkins, VP of Capacity at ITS Logistics. They discuss ITS Company Culture and the challenges that have come with growth as well as the importance of driving a meaningful and impactful capacity strategy.
Listen now:
Randy's Background:
He worked in diesel parts for a long time. His brother started working with ITS and motivated him to come on board too. As soon as he got into this, it pulled him in just like it probably pulls most people in... It's addictive! (In a good way!)

T&L is a fast paced environment and the mainframe of the economy.
"I'm not going anywhere, you know this is it for me, this is my endgame, I'm here indefinitely".- Randy Perkins, on how much he enjoys working at ITS, and thus plans to stay there.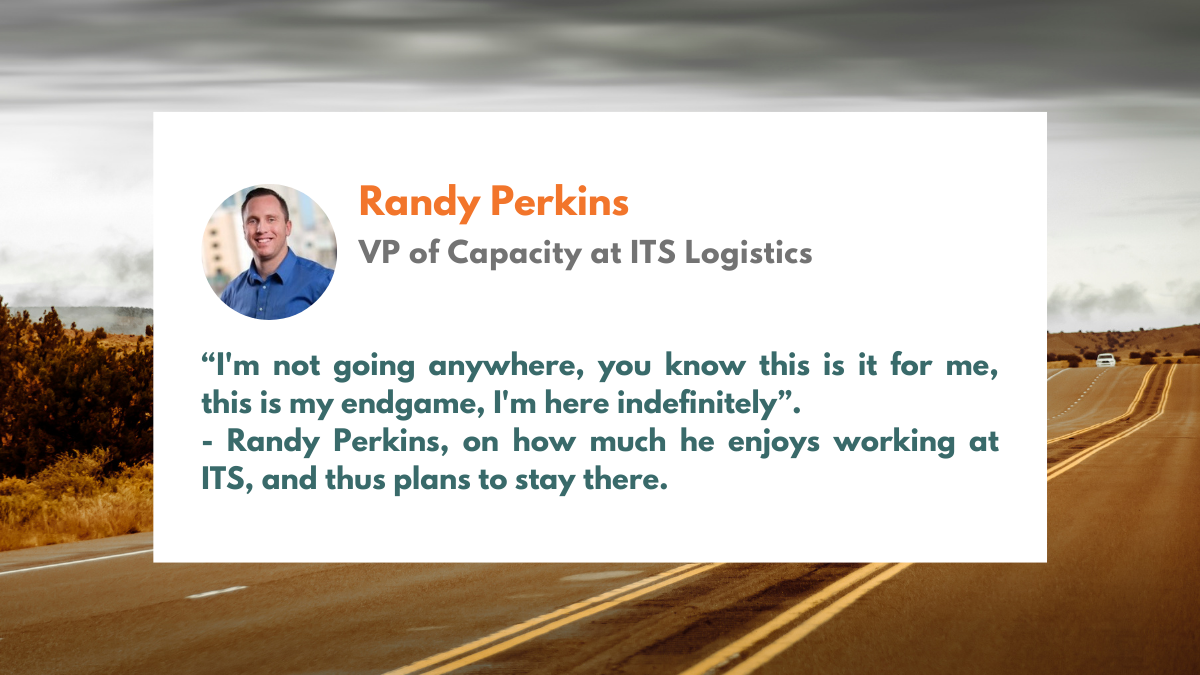 ITS in the market
ITS was founded in 1999, started off as an asset sized, and then expanded to warehousing as well as brokerage. They founded their brokerage arm in 2012. Since then, they've just exploded into a top 25 brokerage firm.

Their main focus is specializing in expedited, which is the uniqueness that ITS provides to the industry.

They work in every different aspect such as: having a drayage division, the standard OTR division, reefer temp control division, specialized freight.
Company Culture
Growth & People
ITS's growth thus far has been organic. They started small and credit a lot of their business growth to their people. ITS is very focused on the competitive nature and everybody that they bring in house.
The other unique thing about ITS's business model is that they have a significant amount of assets, and they utilize those same assets in their brokerage side.
Recruiting
It all starts with the ability to recruit the proper people. ITS have done a lot in regard to making sure that they are hiring optimal types of personalities. While industry experience is important, ITS cares more about your ability to take on challenges and overcome them. For example, they want to know:

How have you overcome adversity in your life?

Are you that type of person when things get hard? Are you able to overcome that?
What are some of the challenges that have come with growth?
They had to overcome negativity in the beginning. A lot of people told them "You can't" when they started. Critics challenged ITS's ability to be based out of Reno and to be regionally located, but ITS has succeeded.

Technology difficulties: early on, they had a lot of manual processes. They had to slowly but surely get the right tech in place. Making sure they provided the team with what they needed to succeed was huge for them.
Again, Randy repeats that part of the secret sauce for ITS is their employee recruitment. ITS hires people in a very selective way with the intent of keeping them long term.
Initiatives
Improving training: From teaching people how to engage with carriers and promote growth of the relationship to how to manage issue resolution.

Continue to become and maintain a status of best in class. With this, they launched their "Carrier Commitments".

"Focus on the root, not the fruit." Focus on driving relationships which is the root, and the fruit of that, which is that carriers genuinely appreciating working with ITS, will come.

Tech focused on driving efficiency, productivity, and the carrier experience: load boards, general carrier engagements, working on care, reports…

Carrier benefits: show carriers that they're valued. Ex: driver appreciation week.
Capacity strategy
Capacity strategy is so important to every organization because it's needed. Every brokerage firm needs to invest into capacity strategy. There are stigmas and stereotypes that need to be broken and capacity strategy helps break the stigma and stereotypes associated with carriers.


How do you create a meaningful and impactful capacity strategy?
Constantly reiterate it: keep it front of mind - don't get complacent.

Employ the right people: when you have professionals who have the right morals personally and professionally, doing the right thing comes naturally.

Consistency: You need to be constantly doing right by your carriers.

Treat your carriers like partners.

Celebrate high performing carriers the same way you would celebrate winning a new logo or bringing on a new shipper.
ITS Carrier Commitments
Respect

Committing to our commitments: do what you say you're gonna do!

TORD and

TONU

: we make sure we're paying towards TONU'S, detention, layovers.

24/7 communication: the ability to no matter what time it is, day or night, they have the ability to reach out and have contact with anybody!

On time payments

Ownership: single representation.

Consistency
ITS FUTURE:
Making sure both sides of the house are happy with the outcome that ITS is representing.

Help any partner provider the right way!

AND ITS's most exciting goal: Aiming to see ITS in the top 10 next year!
Learn more about ITS at https://its4logistics.com/
Randy Perkins can be found on Linkedin here or can be reached by email at rperkins@its4logistics.com
Learn more about Metafora+, Metafora's partnership program here.
Interested in chatting with a SME from Metafora? Request a free discovery call here!
---
Subscribe and listen on the following podcast services: