Leonard's Express Develops Valuable Career Paths and Develops Long-Term Scale Strategy with Metafora's Help
Leonard's Express is a family-owned asset-based transportation provider located in Farmington, New York with offices located throughout the United States. They provide transportation solutions for a wide range of customers that encompass many industries.
While their brokerage had been successful for many years, they recently acknowledged that business had plateaued. The leadership at Leonard's Express knew they had to make major changes in order to make a major impact on growth. Simply put, they wanted to be intentional about becoming a bigger and better organization. They had ideas and experts on the case, but they wanted the help of an unbiased outside perspective. Thus, they enlisted the support of Metafora.
With the help of Metafora, Leonard's Express pushed out of their comfort zone and was forced and better-equipped to take risks that ultimately led to high rewards.
Leonard's Express began this new growth journey by undergoing a business assessment with Metafora. In this top to bottom review of the business, Metafora consultants helped Leonard's Express uncover some of the root issues of their plateau.
For example, it was discovered that Leonard's Express was a somewhat flat organization without many opportunities for employee growth. This needed to change. An initiative to develop career pathing that positively impacts retention, employee happiness, engagement and productivity became a priority. With Metafora's guidance, Leonard's Express updated their organizational structure in a way that created new opportunities for career pathing in account management, sales, and freight brokering. This structure was also designed to increase the appeal of our industry to a younger generation. Employees could now better grow alongside the company.
Part of this effort included improving employees' job descriptions so that everyone has a clear understanding of their role and responsibilities. This initiative saw an increase in efficiency as employees were empowered to truly focus on their roles and minimize overlap and distraction in their day-to-day endeavors.
Leonard's Express now better enables their employees to excel in their practices and enhance their skills, wherever they are in their career journey. This was all part of a larger long-term strategy for Leonard's Express to better scale their business.
Troy Wiitanen, VP of Sales at Leonard's Express shares about the experience of working with Metafora. Catch his commentary in this client testimonial video:
Video Highlights:
Why did Leonard's Express choose to work with Metafora?
Wiitanen: Ultimately, as we were looking to scale the business [and] become more efficient, what we really wanted was an outside perspective… We wanted to focus on someone who had industry experience, that has participated in some of these activities before because we knew this was going to be a big organizational change for us… What we really needed was that trusted source…
What challenges/ pain points did Metafora help you overcome and address?
Wiitanen: For us it was having too diverse of a job responsibility. Metafora ultimately held us accountable to continuing the process as well. As an organization, we are really entrepreneurial by nature… so what really made us successful from this transition, and also specifically to myself, is really trying to keep us on task, like keeping the process.
Would you recommend Metafora to other companies looking for help in the transportation & logistics space?
Wiitanen: I would absolutely recommend Metafora to any organization looking for assistance with logistics or supply chain needs or how they structure their organization.
---------------------------
We also had the pleasure of chatting with Shannon Struzik, VP of People & Development at Leonard's Express about her experience working with Metafora on this initiative. Struzik commented, "We accomplished big goals in less than a year's time frame. Work that would have likely taken us over 5 years without the help of Metafora."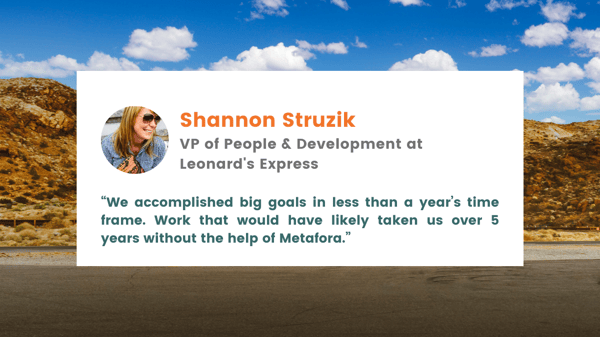 When asked if she would recommend Metafora to other businesses to other companies in transportation and logistics looking for outside help, Struzik stated,
"Yes, I would definitely recommend Metafora to other companies, specifically companies within our industry that are looking for an avenue to help them grow, expand, provide structure or career pathing within the organization… There's a lot of hard work AND fun!"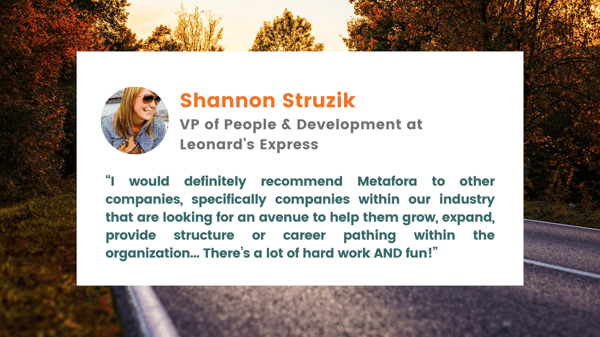 Leonard's Express is still running with these practices put in place from this engagement, and we are all excited to see their continued growth and success.
---
Interested in how Metafora can help your transportation organization take strides toward progress and growth? Request a free discovery session to chat with an expert!