BGSA Supply Chain Conference 2023: Highlights & Takeaways
Last week our CEO Peter Rentschler and our Chief Growth Officer Ryan Schreiber attended the BGSA Supply Chain Conference. As one of the most exclusive and foremost C-level events in the industry, the conference provided an intimate and candid setting for CEOs and leaders to network and explore ideas with their peers. The event also focused on strategic ideas driving change in the supply chain marketplace, such as new technologies, consolidation, global expansion, and innovative growth strategies.
Peter and Ryan found incredible value in the conversations they were a part of while there. Below are some of their key takeaways and themes from the event.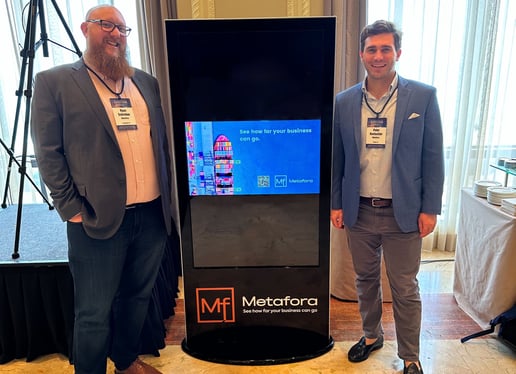 Key themes discussed included resetting expectations for the industry, the impact of next generation technology such as AI and autonomous systems, and the importance of driving insights to customers. Attendees noted that there is still an appetite for mergers and acquisitions, and that the government should not be prescriptive about how transportation and logistics companies spend their time and money.
"Tech is just one of the ways you win. Yes, tech is important and you have to have it, but it doesn't solve for everything. Tech works best when you also have the right, people, process, and training in place. "- Peter Rentschler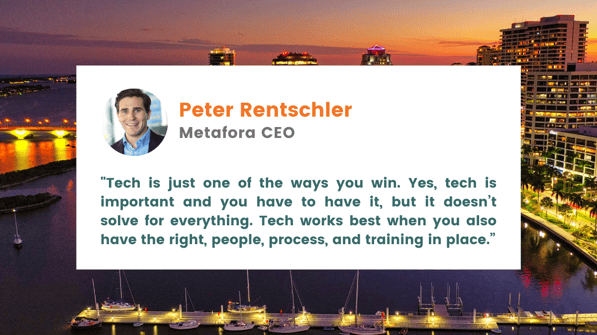 Top takeaways from the conference included conflicting views on the 2023 outlook, resetting expectations, and a level of optimism despite the challenges facing the industry. In particular, attendees discussed the supply and demand of drivers, the impacts of soaring truck costs over the past year, and how shifting consumer habits are affecting retailer strategy.
The panels dug deeper into some really interesting topics. Some of the most notable takeaways were about retailer strategies, the market shift, shipper relationships, bid cycles, the environment and electric vehicles, government intervention in T&L, and of course, tech. Let's break it down below:
The State of the Industry
Contract vs. spot market came up in a number of conversations. Most notable was the observation that shippers, for the most part, have honored their contracts versus going to the spot market. Shipper relationships are important to maintain, and now they're asking for rate cuts as they renegotiate using the argument that Capacity Providers made a lot of money over the past 24 months. Let's balance out the playing field now. Also worth noting is how the spot market is more fragmented now because shippers have two bid cycles. (Is it time for more frequent bid cycles?).

Additionally, transportation and logistics companies are working to balance layoffs and workforce management with their continued growth needs. How can we right size our labor market? (Hint: Tech can help.)

Attendees discussed how shifting consumer habits are affecting retailers. For example, retailers are doing more final sales and implementing stricter return policies. This will have a correlating effect on trucking theoretically reducing volume.

Last but not least as a highlight was the discussion around continued consolidation in T&L. With the continued appetite for M&A, businesses need to be intentional about integrating teams. Proper cultural and organization integration, technology onboarding and training are crucial to a successful merger.
Technology #FreightTech
Buy versus build has always been a popular topic in freight tech, and people are evaluating leaning on 3rd party developments in all aspects, from core functionality to art-of-the-possible AI.

With so much tech that has come out in the past few years, unfortunately there is some deadweight and digital disconnect as a result. It's time to be more intentional and strategic about what tech we buy or build for our businesses.

We were glad that freight tech was ingrained in so many of the conversations at BGSA. We've seen the narrative shift over the past 10 years from people mostly just talking about their TMS (and how much they hated it) to ideating around how tech can drive a better cost to serve and lower overhead. How tech can improve employees' lives. How we can do more with tech and make better data-driven decisions with it. We are thrilled to see this adoption of freight tech and are excited to continue to see freight tech and the attitudes around it continue to mature and innovate.
"Tech is not about replacing people. It's about doing more with the same amount of people. I'm glad to see more people in the industry acting with this POV." - Ryan Schreiber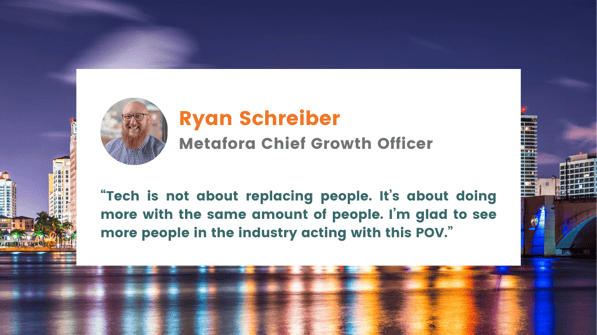 Legislation that would affect Transportation and Logistics Businesses
The environmental impact of trucking was a subject of focus. Will electrification become a priority? With reports citing that 21% of greenhouse gas emissions are coming from transportation, how much will the government intervene by setting new rules and regulations. The recently signed Global Memorandum of Understanding on Zero-Emission Medium-and Heavy-Duty Vehicles (Global MOU) commits the US to ensuring that 30% of trucks will be zero emission by 2030 and 100% by 2040!
Event highlights? Peter and Ryan had a blast at the Metafora-sponsored Welcome Cocktail Reception, but they said the most valuable time they spent in Palm Beach was at the pool. Just kidding. They said the most valuable conversations they had were at the smaller dinner gatherings they hosted. A handful of attendees from the conference were able to find time in an even more intimate and exclusive setting to share ideas, talk business, and have quality catch up time with each other.
As the transportation and logistics industry continues to evolve, it is important for companies to stay informed about the latest developments, insights, trends, best practices, and strategies. As a final note, we think one of the most exciting things to learn from attendees at this year's conference was that despite the shifting economy, the need to reset expectations, and the challenges that lie ahead, there is still an overwhelming level of optimism among leaders in the industry. We're here for the challenge and we also have a positive outlook for the future of transportation and logistics. Let's do this.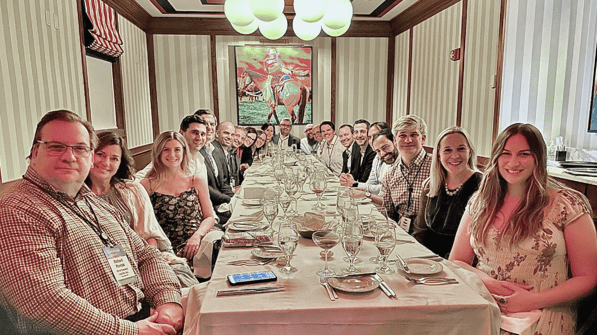 ---