September 28, 2023 - Charlotte, NC - Armstrong Transport Group ("Armstrong"), a leading non-asset-based logistics provider, has selected Metafora to accelerate the development of its next-generation transportation management system. The decision stems from Armstrong's commitment to enhancing its freight services and addressing the dynamic needs of its customers and partners in the logistics industry.
Faced with complex logistics challenges, Armstrong recognized the need to expedite its application development process to offer best-in-class tools that save money for shippers, increases earnings for carriers, and creates efficiencies for freight agents. The companies will partner on initiatives across the Armstrong roadmap, including rating, capacity management, and optimization. Through this collaboration, Armstrong is poised to harness Metafora's expertise to increase revenue and control costs while maintaining its reputation for delivering superior service levels.
Cameron Ramsdell, CEO of Armstrong Transport Group, expressed his enthusiasm for the partnership, stating, "Metafora knows technology and, with their logistics industry expertise, emerged as the ideal partner to help Armstrong execute on our vision to drive real-world impact through technology advancements."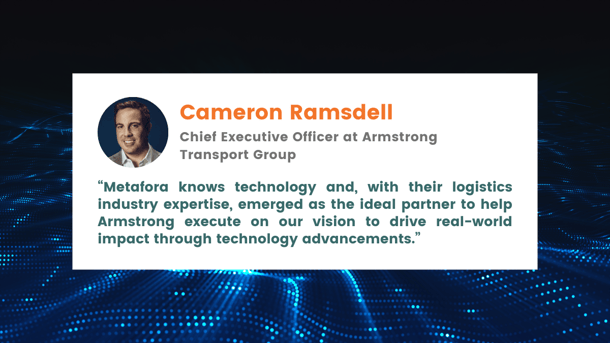 "We are thrilled to partner with Armstrong Transport Group and have them join the list of distinguished carriers, brokers, and freight tech companies that we have had the privilege of assisting in achieving remarkable accomplishments," said Ryan Schreiber, Metafora's Chief Growth Officer.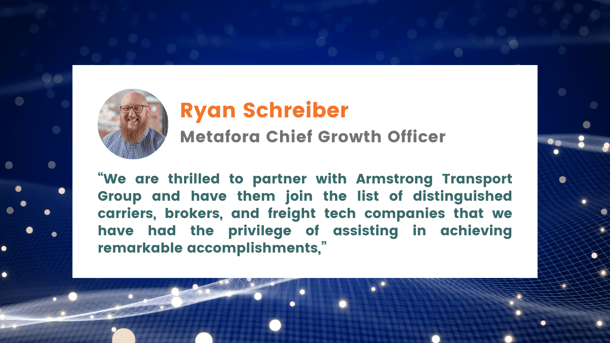 About Metafora
Metafora is a technology consulting firm focused on transportation, logistics and supply chain strategy. Metafora's goal is to help businesses overcome obstacles and drive progress through better development and application of freight tech. Our mission is to drive the transportation industry forward, so we can contribute to a more efficient world together.
About Armstrong Transport Group
Armstrong Transport Group is a leading non-asset-based logistics provider headquartered in Charlotte, NC. For more than 15 years, Armstrong has provided solutions for moving and managing freight in a complex and evolving marketplace. The service-centric, technology-forward company excels at connecting shippers and carrier partners through its 60,000+ multimodal carrier network. With its proprietary technology platform and integrated tools,. Recognized as a Top 20 Freight Brokerage in North America, Armstrong's top-tier logistics experts are located across 150 freight agent offices. For more information about Armstrong Transport Group, visit www.armstrongtransport.com.


Read this press release on PR Newswire here.
- - - -
Press Contact
Ryan Schreiber